Services & Equipment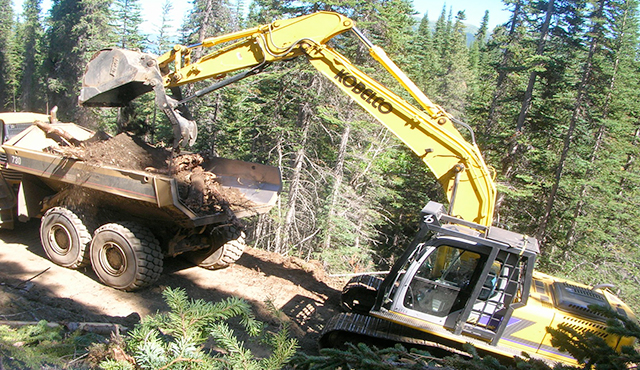 Services

TNDC provides a full suite of specialized contracting services for the building construction, forestry, hydroelectric power, mining and road construction industries as well as support operations in administration and accounting, ground transportation and heavy equipment hauling.
TNDC's primary focus is road construction and maintenance, earthworks and heavy construction, gravel and mine tailing hauling, remote industrial camp operations and building construction.

Through its Spatsizi Remote Services division, TNDC also provides camp catering to several clients.
Service and supply offering:
Bridge construction and tunnelling
Camp, catering and medical
Commercial explosives
Drilling, blasting and exploration
Environmental
Freight and heavy hauling
Heavy equipment servicing
Industrial fuel and petroleum products
Helicopter and aviation
IT Management
Power line construction
Road construction and maintenance
Rock hauling
Supporting Operations
Administration and accounting
Ground transportation
Heavy equipment hauling
Equipment
TNDC owns and leases a modern fleet of heavy equipment, including bulldozers, excavators, graders, loaders, trucks and other heavy equipment that enables it to carry out a wide range of services.
TNDC is successful because of the dedicated staff and skilled workers. The support of the Tahltan leaders and the TNDC board is crucial to the success of the company. Being President of TNDC has been the most rewarding job in my career. I look forward to my continuing involvement with all of the staff.

Bill Adsit

Past President, TNDC

We've completed a number of projects though our FrontierMEDEX Tahltan Ltd. partnership since we became a partner back in 2007. It's been extremely positive. TNDC has been terrific to work with and we're looking forward to continuing to build the business partnership.

Ryan Steil

Past General Manger, Canada, FrontierMEDEX Canada Ltd.

I've worked in several areas during my 11+ years with TNDC, and it's been a great company to work for. It is well run, well respected, and has played a vital role in the growth and stability of the Nation. It's a great source of pride and resource for the Tahltan people, and I'm proud to be a part of it.

Carol Danielson

Accounts Manager, TNDC

We formed our Tahltan Aeronigma Geodis Wilson partnership in 2011. It's been an honour to partner with TNDC for the opportunity to provide our wide-range of global logistical services and be a part of a world class organization built on mutual cooperation, trust and respect. They're a terrific group of educated, business friendly people eager to learn and work with us.

Adam J. Wickstead

President, Aeronigma Solutions Inc.

We've had many projects in Tahltan territory through our Rescan Tahltan Environmental Consultants (RTEC) partnership, and the experience has been excellent. TNDC's management team has been an honorable and knowledgeable group to work with. They always look at ways to make things work, and we have developed lasting friendships. It's been an honour to work together.

Clem Pelletier

former CEO, Rescan Group

Sodexo Canada has been a partner with TNDC since 2002, providing complete camp management through Spatsizi Remote Services. During this time we have worked on many projects, and employed many Tahltan members. It's been very positive, and the business relationships have formed long lasting personal and business friendships.

Ivor MacGregor

Vice President, Operations, Sodexo Canada Ltd.