Careers with TNDC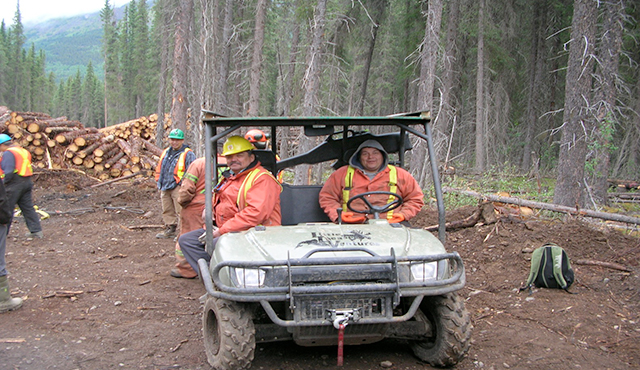 TNDC is the largest employer in Tahltan territory. Through TNDC and Spatsizi Remote Services (SRS), we provide employment in camp services, administration, earth works and mechanical on projects in Tahltan territory, in various positions, such as housekeepers, chefs, heavy equipment operators, mechanics, administration and safety.
TNDC also has a number of partners who have opportunities that come available in a much-wider range of careers.
We provide competitive wages, support training and embrace a culture of integrity, unity, respect and accountability. We support our people in achieving the highest certification in their position and work with high performers to support plans to advance their careers.

We're always on the lookout for trained and certified workers and invite you to submit your resume. Be sure to check out our current employment opportunities.
Submit your resume:
Roanna Gleason
Human Resources Manager
hr@tndc.ca
We've had many projects in Tahltan territory through our Rescan Tahltan Environmental Consultants (RTEC) partnership, and the experience has been excellent. TNDC's management team has been an honorable and knowledgeable group to work with. They always look at ways to make things work, and we have developed lasting friendships. It's been an honour to work together.

Clem Pelletier

former CEO, Rescan Group

Ledcor recognized the benefits offered through the Tahltan's local expertise and experience, and welcomed the opportunity to involve community members in projects. We established Tahltan-Ledcor Joint Venture back in 1991 when we managed construction on the Eskay Creek mine. We value the partnership with TNDC and look forward to the opportunities ahead within Tahltan traditional territory.

Rodger McLean

Past Business Development & Aboriginal Relations Manager, Ledcor

TNDC is a great place to work. The atmosphere in the office is friendly, open, and honest, and there is always humour and laughter. I like that TNDC maintains an active approach of hiring locally and offers training within that position. Employees are highly encouraged and supported to advance professionally, which ripples into advancing personally as well.

Rhonda Quock

Office Manager, TNDC

We formed our Tahltan Aeronigma Geodis Wilson partnership in 2011. It's been an honour to partner with TNDC for the opportunity to provide our wide-range of global logistical services and be a part of a world class organization built on mutual cooperation, trust and respect. They're a terrific group of educated, business friendly people eager to learn and work with us.

Adam J. Wickstead

President, Aeronigma Solutions Inc.

TNDC is successful because of the dedicated staff and skilled workers. The support of the Tahltan leaders and the TNDC board is crucial to the success of the company. Being President of TNDC has been the most rewarding job in my career. I look forward to my continuing involvement with all of the staff.

Bill Adsit

Past President, TNDC

We worked with TNDC on the Galore Creek mining project and the Northwest Transmission Line, providing heavy lift helicopter services. It made good business sense to get involved with the Nation, so we formed Tahltan Helifor Joint Venture in 2011. After meeting Bill Adsit, I knew we had made the right decision. We have had only positive experiences and look forward to continued collaboration.

Gary Laidlaw

President & General Manager, Helifor Canada Corp.