About the Tahltan Nation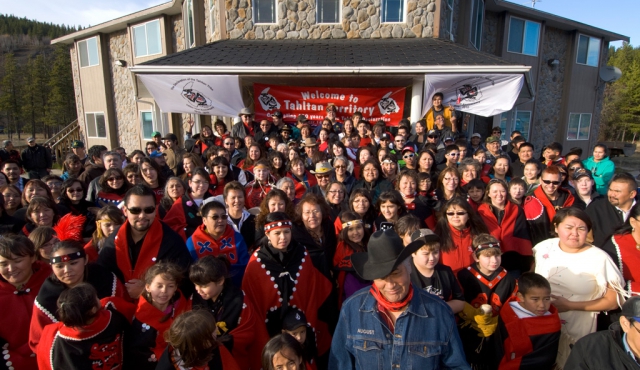 TNDC is a business corporation owned by the people of the Tahltan Nation through the Tahltan Band, Iskut Band and the Tahltan Central Government (its shareholders). The Tahltan Nation includes on and off-reserve Tahltans living in Telegraph Creek, Dease Lake and Iskut. About one-third of the Tahltan Nation lives in Tahltan territory, though not all are living on reserve lands, and more than 3,000 people living across the country.
Located in Northwest BC, Tahltan territory encompasses 11 percent of British Columbia and the Tahltan Nation holds inherent Aboriginal title, rights and interests of the Tahltan Territory. The Tahltan people are entrepreneurial by nature and the Nation supports sustainable and responsible business development that respects Tahltan traditional values and benefits all parties.

Covering 93,500 square kilometres (36,100 square miles), the north/western border of Tahltan territory runs parallel to the Alaskan/Canadian border, and includes part of Yukon. The south/eastern border includes the upper Nass tributaries, western half of the Stikine plateau, and the sacred headwaters of the Stikine, Nass and Skeena rivers.
Tahltan territory is rich in natural resources including minerals (gold, silver and copper), which has earned it the reputation of The Golden Triangle, as well as salmon, forests and wildlife. The abundance of these natural resources has resulted in overwhelming interest by industry in developing projects to extract the resources.
Sodexo Canada has been a partner with TNDC since 2002, providing complete camp management through Spatsizi Remote Services. During this time we have worked on many projects, and employed many Tahltan members. It's been very positive, and the business relationships have formed long lasting personal and business friendships.

Ivor MacGregor

Former VP Canadian Operations - Onshore Energy & Mining, Energy & Resources, Sodexo 

TNDC is a great place to work. The atmosphere in the office is friendly, open, and honest, and there is always humour and laughter. I like that TNDC maintains an active approach of hiring locally and offers training within that position. Employees are highly encouraged and supported to advance professionally, which ripples into advancing personally as well.

Rhonda Quock

Manager Finance, Accounting & Administration, TNDC