About the Tahltan Nation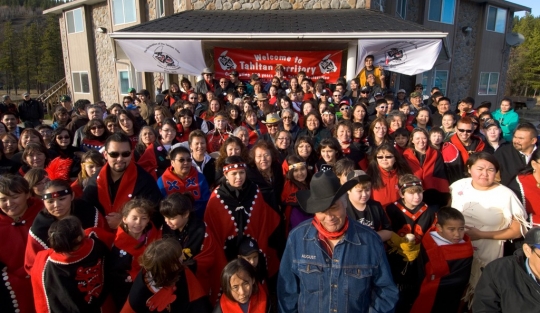 TNDC is a business corporation owned by the people of the Tahltan Nation through the Tahltan Band, Iskut Band and the Tahltan Central Government (its shareholders). Total population is approximately 4,500 to 5,000 with 15% living in Tahltan Territory (in the communities of Telegraph Creek, Dease Lake and Iskut), and 85% living outside the territory (primarily in BC and Yukon, with others across Canada and in the United States).
Located in northwest BC, Tahltan Territory encompasses 11 percent of British Columbia. The Tahltan Nation holds inherent Aboriginal title

and

rights of Tahltan Territory. The Tahltan Nation supports sustainable and responsible business development and takes a leadership role in managing the natural resources in its territory to ensure sustainable activity adheres to Tahltan laws, culture and values.

Covering 93,500 square km, the north/western border of Tahltan territory runs parallel to the Alaskan/Canadian border, and includes part of Yukon. The south/eastern border includes the upper Nass tributaries, western half of the Stikine plateau, and the sacred headwaters of the Stikine, Nass and Skeena rivers.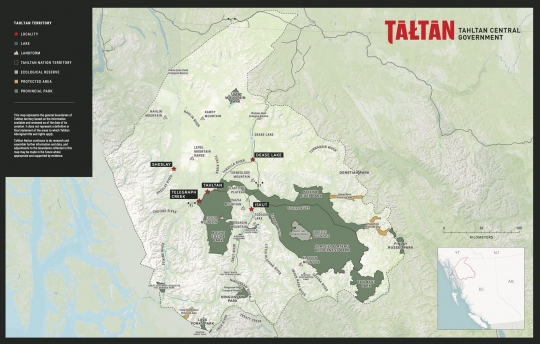 Map of Tahltan Territory -- courtesy of Tahltan Central Government
Tahltan Territory is rich in natural resources, including fish, wildlife, forests, vegetation and minerals. It includes 70 per cent of BC's Golden Triangle – a world-class mining jurisdiction with a thriving mineral exploration sector. Tahltans have a rich culture and homeland abundant in natural resources that have sustained its people for thousands of years. Tahltan culture is intricately woven into all aspects of life, including art, language, governance and law.