Chair's Message
TNDC reached a significant milestone during the 2018-2019 fiscal year – delivering a profit for the first time in three years. The Board is extremely pleased with this result, which was achieved due to increased revenues, continued implementation of cost control initiatives and improved operational efficiencies. As the business arm of the Tahltan Nation, the stimulus for TNDC's success comes from the Tahltan membership. In striving to ensure a fiscally strong company, the Board also seeks to make a better future for the Tahltan community. The Board is pleased TNDC is...
Latest
News
| | |
| --- | --- |
| | TNDC to Provide Fibre Optic Communication to Iskut and Dease Lake in Northwest British Columbia |

| | |
| --- | --- |
| | TNDC Board of Directors – Invitation for Expressions of Interest |

| | |
| --- | --- |
| | TNDC Featured in Journal of Commerce ConstructionConnect |
Employee
Profile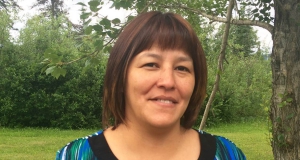 May Quock
Operations Coordinator
I have been with TNDC for more than 10 years, including 4.5 years with Spatsizi Remote Services (SR). I started with SRS at the Eskay Creek and then Galore Creek camps working as...
Tahltan Traditional
Territory

Tahltan traditional territory is located in
Northwestern British Columbia. It covers
93,500 square kilometres (36,100 square
miles) – more than 11 percent of BC,
includes the Stikine River watershed and
extends into the Yukon.
VIEW INTERACTIVE MAP

Tahltan Traditional
Territory

Tahltan territory is rich in natural resources including minerals (gold, silver and copper), which has earned it the reputation of The Golden Triangle, as well as salmon, forests and wildlife. The abundance of these natural resources has resulted in overwhelming interest by industry in developing projects to extract the resources.
VIEW INTERACTIVE MAP